9000
Introduction of the Saab 9000 CSE 50th Anniversary Special, which includes Aero look (front/rear); super Aero 16" wheels; standard 2.3L
Turbo w/automatic or manual transmission; two-tone sand beige leather seat upholstery with embroidered anniversary logos on front seats;
carpeted floor mats with anniversary logos; wood and leather-wrapped steering wheel; sport chassis; and body-coloured rear spoiler
The 9000 CSE non-anniversary model is discontinued The 9000 CDE is now only available with the 2.3L Turbo engine and the
Aero Sport interior Power driver and front passenger seats now included with optional leather package on CS Rear end of the 9000 featuresspecific badging
Colour-keyed exterior rearview mirror housing now standard on all models Two new exterior colours (Midnight Blue and Cayenne Red)

Upgrades to my SAAB 9000, CS 2 Litre, automatic. M97 Modifications so Far:--
She started out as a 2.0 Litre lpt (Low pressure Turbo) CS Automatic. At around 150 BHP (Brake Horse Power), she was not going to stop the Earth from rotating with that type of figure, bearing in mind that a 9000 Aero is putting out something in the region of 250BHP, the lpt is 100 down. We needed more power! The first thing I bought for her was a Forge dump valve to replace the standard one. Next, I replaced the standard air filter with a JR lifetime air filter, and modified the air box (Drilled a lot of 76mm holes into it). The lpts of this year have an IC (Intercooler) but no APC (Automatic Pressure Control) valve, so I fitted one, this improves the boost, by keeping the waste gate closed longer, giving the turbo more spin up time. I then fitted a 2.3 litre FPT (Full Pressure Turbo) exhaust system, this being 63.5mm as opposed to the standard lpts 44.45mm bore. I then sourced an ECU (Electronic Control Unit) from an M95, (the M95 had an APC valve but no intercooler), so the base boost was higher on that model than on the later models, 0.45 Bar (See here) compared to the M97's 0.37 to 0.43. I also fitted an Abbott's racing waste gate, 0.55 bar. Knowing that the Automatic box, is only good for about 200 lb/ft of torque (271.164 N-m), I did not want to exceed this by much, I fitted an extra Oil cooler in line to the standard cooler, Photos of the project can be found here, I used a standard oil cooler from a SAAB 9000, that I had broken down for selling the parts. I had two hoses made up with fixings, and fitted it, total cost £35; the ATF (Automatic Transmission Fluid) is kept very much under control now. Not too sure of the power output, as the rolling road day we had only proved that the people who were in control were not. However, using OBD (On Board Diagnostics) she gives out 198.9 BHP at the flywheel. Inside I fitted beige leather seats from an M95 (1995), fully electric. She now runs with Richard LeBarres Stage 3 ECU T7 upgrade. 1.35 Bar boost.
The above was written in 2008 or there aboust. A lot has been done to her since then. All bushes replaced with Polly, a 3" full exhaust system from Turbo to tail, Made by MANIFLOW of Salisbury cost £450. Full AERO body kit fitted. A Speedflight ECU, at present I have no idea what the BHP or Torque figures are, but she gives most new BMW's and AUDI's a run for their money. 16" AERO deep dish wheel with 205x60/16 TOYO PROXES tyres. Green stuff pads all round ( had RED Stuff on her, but their way to hard for road use). Uprated Intercooler. Standard has 19 rows, this one 32 roes. All Aluminium. and a SS Strut Brace.
How many SAAB 9000's CS AUTOS are still on the road? Find out here. And we have 2 of them. (Other cars can be found here).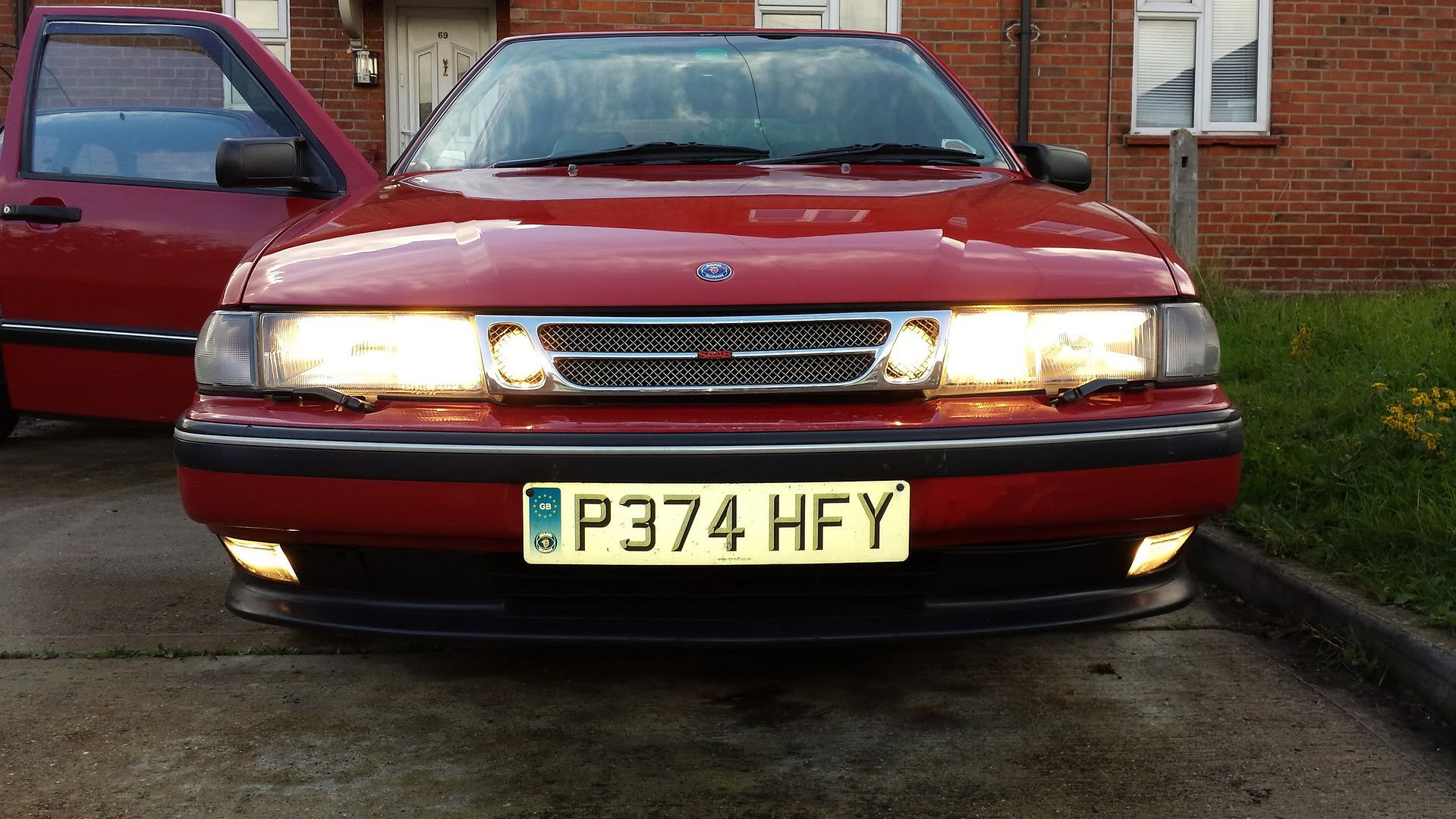 Fitted Polys bushes to all major points, Rear ARD, Front ARB and Drop Links, Top engine mount as well. M97
The Dog Bone TOP ENGINE MOUNT page....
Fixing the LDR, (Click on Photo below).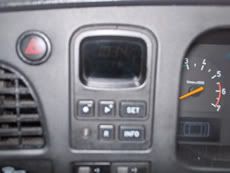 Free Downloads..............
Production colours for SAAB AERO. MS XL File (33K)
3:5 Programmable EDU (75Meg)
lpt to FPT Stage 1 upgrade step guide. by Richard LeBarre lpt 2 FPT
ECU TRIONIC 1994-1998 info (MS Excel Zip file, 10K)
Bosch fuel injector info (MS Excel Zip file, 55K), More info here
T5 Suite site: and T7 Suite Forum
Quaiffe to DL all as a rar compressed file click Here