The light-dependent resistor. (Click on image above for more detail)
IIR, this is the one I used, N49AY, LDR 77K - 340K, about £1.40 form Maplins.
Remove the clock display a bit at a time.
Disconect the wiring plug, can be stiff to remove, so ease off with screw driver, the holding lugs.
Now remove top and bottom metal clips, use screwdriver to flip out.
1:Now ease up all 4 lugs, 'BECAREFUL' here, we do not want to break any, common sense.
2:, Now it's open, the back PCB..
Ease off black spacers, one on each side of the PCB.
3;, Open out PCB.
4:,Red lines show what you need to de-solder, be careful, use de-soldering tool if you have one, otherwise, heat one leg and ease out LDR, then the other leg, and so on until LDR has been removed..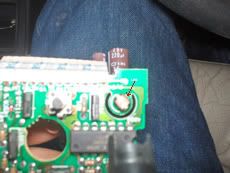 5;, Fit new LDR to PCB, push back and forth to line up with mounting in case. Solder in when happy, cut off excess legs.
Reassemble is the reverse of the above.
Refit wiring connector, and test.
Go down to .................................
7;. Have a pint - a job well done. ( The Dolphin, Southampton) Trollbooster, you have a PINT or three waiting behind the bar.